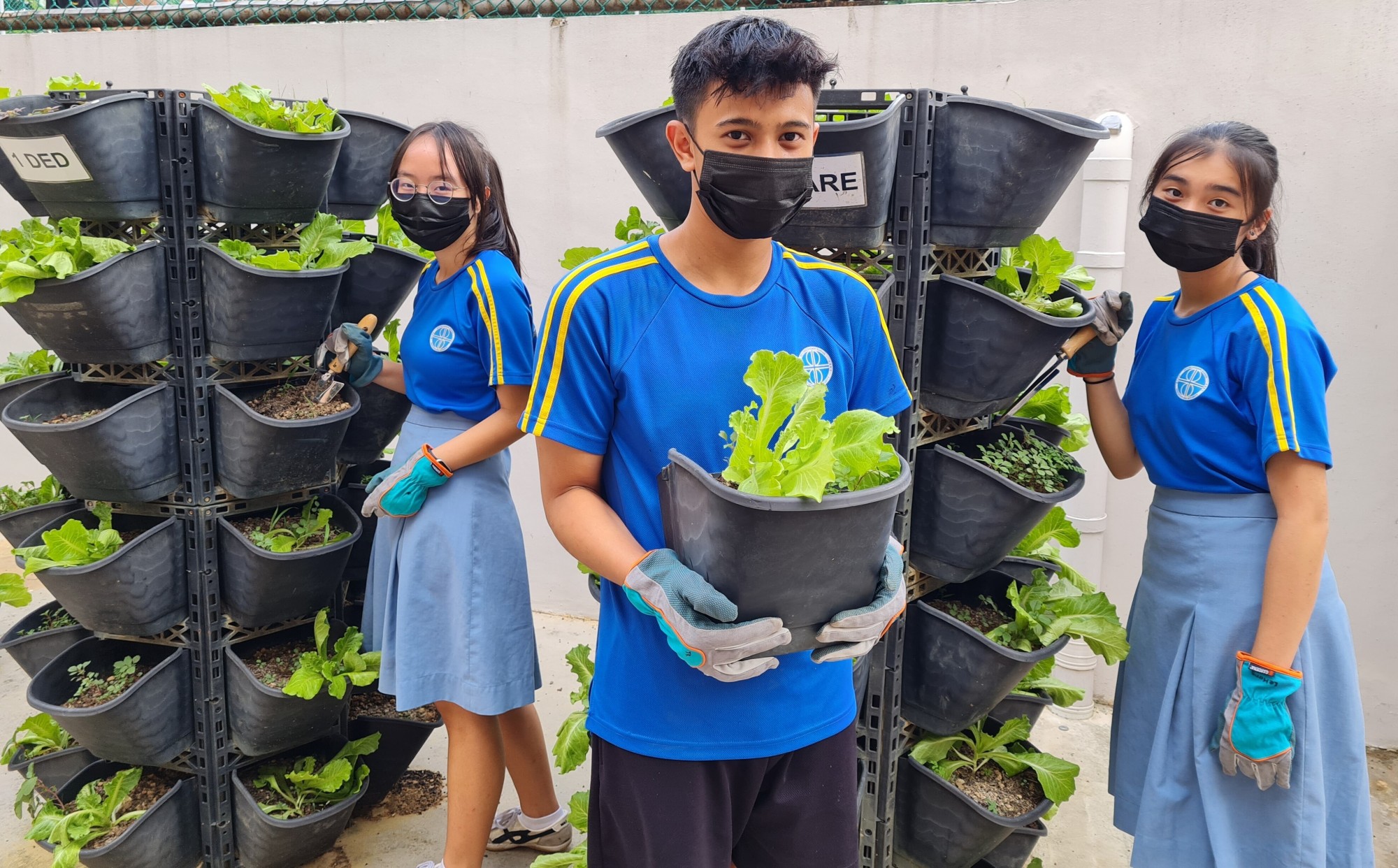 We joined Green Club(GC) for the love of our only earth and to contribute whatever we can for the environment. During our three-year journey with GC, we learnt so much about living sustainably and are given the opportunity for self-development.

Joey: "Initially, I have difficulty interacting with others. However, after working with my club members on projects, I am now more confident and even able to conduct presentation."

Ivan: "Tending to our gardens under the hot sun can be unbearable. However, seeing GC members putting in their best to complete the task spurred me on. At the end of the gardening session, I felt proud of my determination to carry through a given task."

Adelle: "I learnt to take initiative and be responsible. GC has given me many opportunities to make me a better me." "We are thankful to GC teachers and members for the wonderful CCA experience."

Joey Lim (405)
Ivan Edrimin (401)
Adelle Yip (406)
Green Club Exco
'Greening our future'
The Green Club aims to inculcate in its members a sense of love and appreciation for the natural environment that sustains the life of all beings universally as Nature holds the key to our aesthetic, intellectual, and cognitive satisfaction. We hope to achieve this by providing our members with a range of enriching activities that will raise their awareness and concern on environmental issues and events in the school and community. This also creates opportunities for members to cherish Nature and to foster its renewal ensuring its survival. In the process, we hope to make a positive difference for the environment, to advocate an environmentally sustainable lifestyle.
Teacher-in-charge:
Mdm Wong Toi Kuan (OIC)
Mdm Neo Poh Hong (AIC) 
Miss Dolley Tan
Miss Tan Shu Fang Vion
Weekly Schedule:
Every Tuesday and Thursday 2.40 pm – 5.15 pm
Achievement and Highlights

Received Friends of Our Heartlands Gold Organisation Award 2022 and 2023.
16 Green Club students were awarded the HDB Friends of Our Heartlands (FOH) Individual Silver Award 2023
Participated in the National Youth Environment Conference (NYEC) Position Papers Competition. Participated in HDB's Friends of Our Heartlands Volunteer Engagement Day as ushers.
Participated in HDB Friends of Our Heartlands Training Programme to make eco-friendly crafts for the Elderly.
Participated in the National Youth Environment Conference (NYEC) organised by Nan Hua High School.
Participated in the Ang Mo Kio Town Council Tree Planting session.
Participated in harvesting of vegetables for the underprivileged families under Cheng San Community Centre.
36 students from Green Club participated in the ViaRT Award ( a Children's Recycled Art Competition) in 2020.
37 students participated in the Green Wave Competition organised by Sembcorp Marine in 2021.
Vanda Miss Joaquim Award 2018, 2019 and 2022.